Happy Hump Day everyone!
Since the New Year, I have been trying to get back in the kitchen to whip up more healthy meals. I didn't eat very well during the holidays so I have been trying to get back on track by eating more greens and vegetables. I received the cook book,
Clean Food
as a Christmas present in 2011 and I have been cooking with it ever since. From salads, to pasta, to crostini and olive tapenade, it just never seems to disappoint. And the great thing is that everything is straight from the source, clean and healthy.
How many times have you heard your mother or grandmother say, "Eat your lentils, they are good for you!"? Alot right? Well, after all my holiday binging, I knew I needed to try this recipe, one I had intentionally flipped the page past before. To my surprise, it turned out to be absolutely delicious... filling and full of flavor. You must give it a try!
Ingredients:
1 thumb-size piece dried kombu (*see footnote)
1 cup thinly sliced radishes
1 cup chopped orange bell pepper
1/2 cup finely chopped red onion
3 tablespoons extra virgin olive oil
Zest and juice of 1 lemon (I love lemon so I used more after serving)
Sea salt and freshly ground black pepper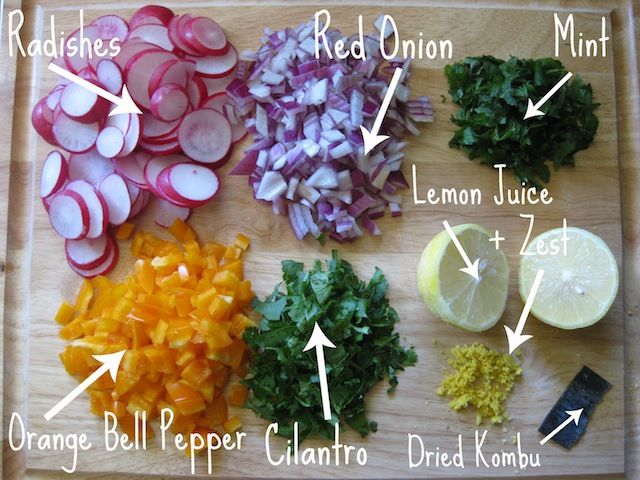 Directions:
Place lentils in a pot or rice cooker with water and kombu. Bring to boil, reduce heat, cover and simmer until lentils are soft and liquid is absorbed. Remove from heat and cool slightly before fluffing.
Place radishes, bell pepper and onion in large mixing bowl. Fluff lentils and add to radish mixture, first removing kombu. Fold in cilantro and mint. Add olive oil, lemon zest and juice and fold to combine. Season to taste with salt and pepper and serve.
I enjoyed it with crostini because for me, it balanced out the beans [and a big glass of wine:)]. She also recommends it on a bed of fresh arugula.
*Kombu:
A small piece added to grains, soups, sauces and legumes during cooking is an easy way to infuse foods with highly alkalinizing minerals, iodine and iron. Dried kombu reconstitutes and releases its nutrients into the cooking liquid that is then absorbed by your food. Also known for its ability to tenderize legumes and reduce their gaseous properties (AKA: Sea Vegetable) -Author, Terry Walters
I bought a huge pack of kombu at my nearest Ranch Market but it is also available at Whole Foods or any Asian market.