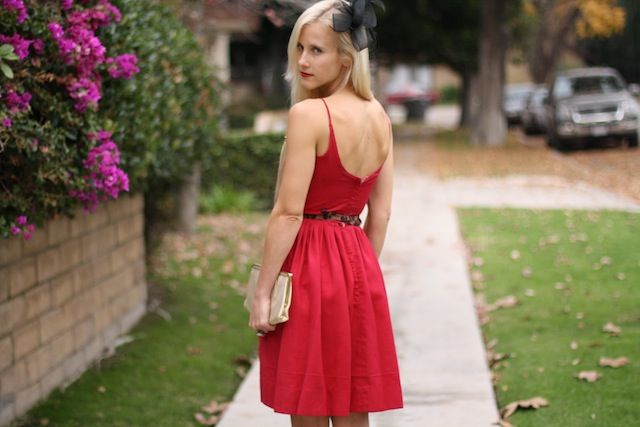 (Dress: In store here, Broach/Clutch: Vintage, Lipstick: Mac Russian Red)
Oh boy, do I love this dress. I loved it so much that I considered keeping it for myself but I had to resist because I can't keep everything. If I kept every piece I loved, there would be nothing in the store.
It's the perfect dress for the holidays. It reminds me of something you would see in a Christmas movie from the 50s. It gets me in the mood to bake gingerbread cookies and sip on egg nog. Oh geez... what am I going to dream about when the holidays are over?
My family is having a huge Christmas party this Saturday. And nope... the partying hasn't stopped since we got back from San Francisco. I promised myself I would spend a few days detoxing (for my liver especially, from all the drinking I did in SF) and at least one week eating super duper healthy. But that lasted about one day. It's so hard eating clean during the holidays when you are tempted by so many delightful holiday treats. I will start detoxing on Sunday but we will see how far that lasts considering Christmas is just around the corner. I might just have to wait until January, the most boring month of the year when having a few drinks makes the month so much better. :)
xoxo,
Candice